45cbm
MONIKA GRABUSCHNIGG
Opening 19.07.2019


Staatliche Kunsthalle Baden-Baden
Lichtentaler Allee 8A
76530 Baden-Baden
Germany
The exhibition is supported by Land Vorarlberg
and Österreichisches Kulturforum Berlin.
Polansky Gallery | Nightshades
Group exhibition with:
Rebecca Ackroyd, Julia Colavita, Monika Grabuschnigg, Maren Karlson, Martin Maeller, Sandra Vaka Olsen
Curated by Christina Gigliotti
Poster: Ville Kallio
Opening:
14 March 2019 | 6 - 9 pm
Duration:
14 March - 27 April 2019
Polansky Gallery
Lidická 26
(rear entrance)
CZ-60200 Brno
REITER Galleries Leipzig | Fantasy electrifies my hand

So it is a lover who bubbles and who foams, 2017
Image: Asaf Orer
»Fantasy electrifies my hand« presents the work of Monika Grabuschnigg from the last two years, that deals with contemporary intimacies and focuses on the politics of love, desire, and (be)longing in the age of rapid technological advancement - specifically, the internet. The underlying question that connects these works is: Where are our bodies and minds located, in an environment constructed on the pillars of neoliberalism, emotional capitalism and globalism, in a world split between the virtual and real?
To understand how we engage with each other is a primary way to understand the system(s) in which we live and crucial to being able to shape the world we inhabit.
Opening:
12 January 2019 | 11 - 20 h
Duration:
12 January - 16 March 2019
REITER Galleries Leipzig
Spinnereistraße 7 / Halle 6
04179 Leipzig
Germany
"TEXTE SIND DIE WICHTIGSTE NEBENSACHE IN EINER AUSSTELLUNG"
Opening:
11 January 2019, 19h - 23h
Duration:
12 January - 01 February 2019
SCHAU FENSTER
Raum für Kunst
Lobeckstr. 30-35
10969 Berlin , Germany
OPEN MODE - Opening Friday 5 October, 19 - 23h, Berlin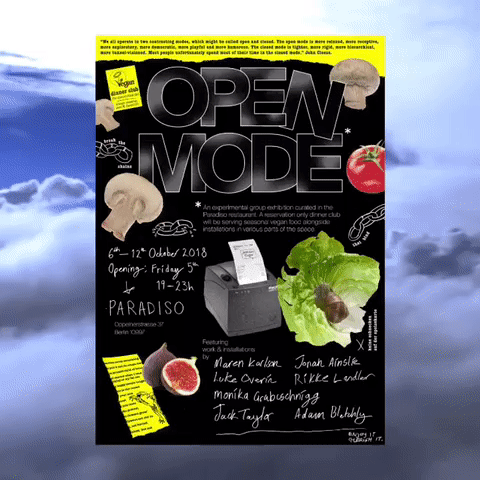 "We all operate in two modes, which might be called Open, and Closed. the Open Mode is more relaxed, more receptive, more exploratory, more democratic, more playful and more humours. The Closed Mode is tighter, more rigid, more hierarchical, more tunnel-visioned. Most people unfortunately spend most of their time in the closed mode."; John Cleese

OPEN MODE, Brought to you by Service Expo, is an experimental group exhibition curated within the Paradiso restaurant. It's aim is to celebrate Cleese's Open Mode and to act as a safety blanket away from judgment of success or the fear of the outcome.We hope to embody and house Cleese's ideology and to create a haven for an open perspective to all outcomes or desires of the contributors.

Exhibitioners:
Luke Overin, Rikke Landler, Monika Grabuschnigg,
Jack Taylor, Maren Karlson, Jonah Ainslie and Adam Bletchly

Curated by Service Expo.


Opening: 5 October, 19 - 23 h
Duration: 6 - 12 October, 2018

Paradiso Berlin
Oppelnerstraße 37
10997 Berlin
Monika Grabuschnigg, Alanna Lynch & Doireann O´Malley
PS120 | A Strong Desire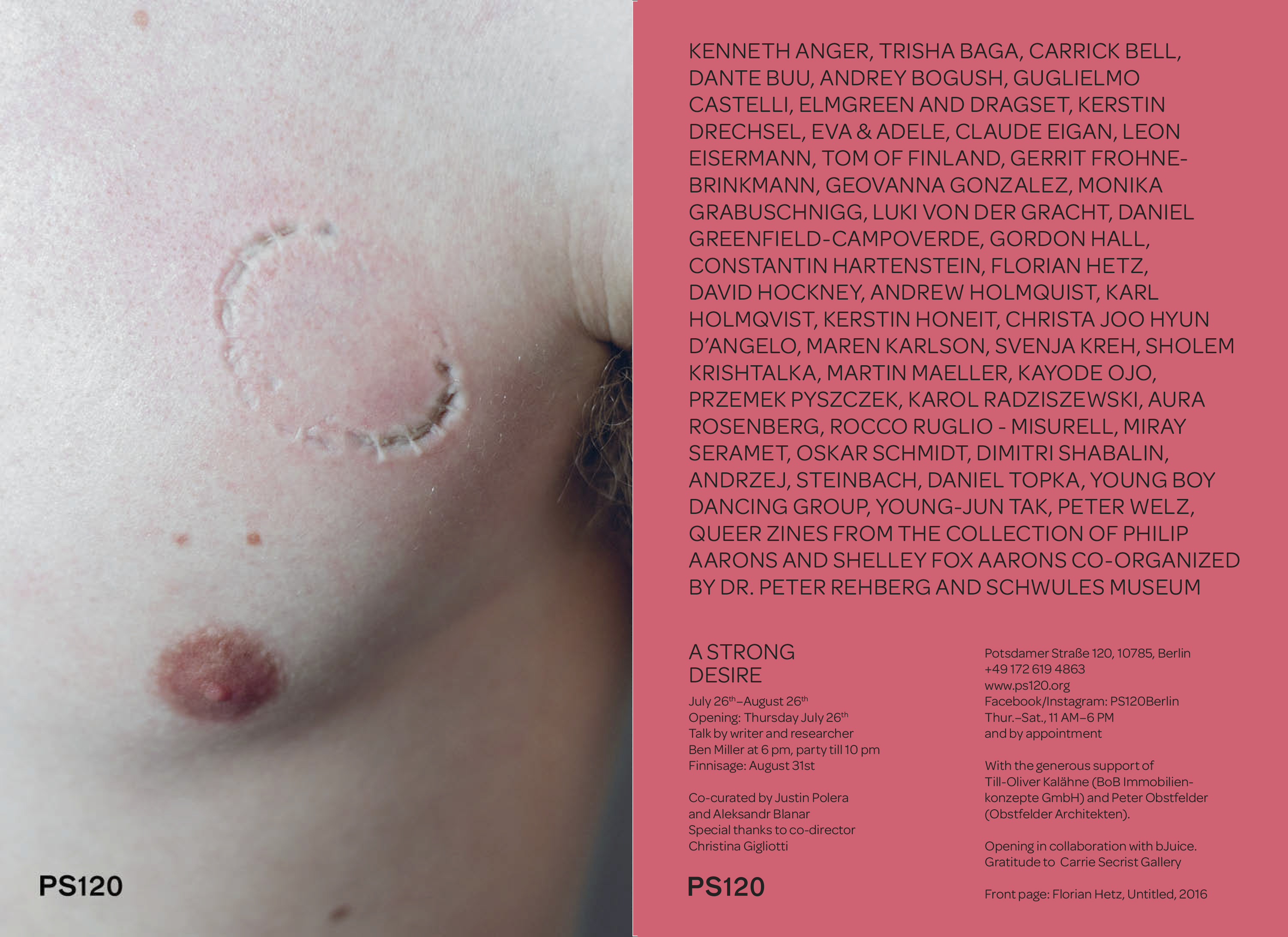 Opening 26 of July, 6 - 10 pm

26 July – 31 August, 2018
PS120
Potsdamer Strasse 120
10785 Berlin
Germany
Opening
August 31, 2018
Nominees
Ana Alenso, Arthur Debert, Monika Grabuschnigg, Nina Kurtela, Alanna Lynch, Markues, Doireann O'Malley, Lorenzo Sandoval, Nina Wiesnagrotzki
The exhibition opening on August 31, 2018 will be followed by four-week program of events, performances, and lectures. The winners will be announced live at a midnight awards ceremony at The Shelf in Kreuzberg, Berlin on September 28, 2018
more info
Alpine Art Muttersberg

Art trail in Vorarlberg, Austria.


Opening
Thursday 21. June 2018, 11 am - 3 pm

Contributing artists
Maria Anwander, Marbod Fritsch, Christoph & Markus Getzner, Monika Grabuschnigg, Alfred Graf und Liddy Scheffknecht


Monika Grabuschnigg
Blickbank, 2018
concrete and ceramic tiles
45 x 45 x 180 cm

"WHAT SATISFACTION COULD YOU POSSIBLY HAVE"
MONIKA GRABUSCHNIGG



12 May – 2 September, 2018


Carbon12
Unit 37, Alserkal Avenue, Al Quoz 1
P.O.Box 214437, Dubai, UAE


NGORONGORO II, 2018
THE EXHIBITION IS INITIATED BY
CHRISTIAN ACHENBACH JONAS BURGERT ZHIVAGO DUNCAN
ANDREJ GOLDER JOHN ISAACS ANDREAS MÜHE DAVID NICHOLSON


For the period of Berlin gallery weekend 2018 and the second time in its history the 6000 square meter studio spaces of Lehderstrasse 34 will host an incredibly diverse exhibition of paintings, sculpture, multi media, installation, film and photography, in which artists invite other artists to exhibit in the context of this studio environment, thus returning the viewer to the very place of art's genesis.


EXHIBITION OPENING

Thursday 26 April 2018 / 10 am – midnight


EXHIBITION OPENING HOURS

Thursday 26 April, Friday 27 April, Saturday 28 April, Sunday 29 April 2018 / 10 am – midnight

Horse and Pony Fine Arts

, 2018
Opening 29th April 6-10pm


30 April - 03 June, 2018


Press Kit
Ratskeller, Gallery for Contemporary Art, Berlin, March - April 2018

INSIDE TÖPFERN
14 March - 27 April 2018

Groupshow with Charlotte Dualé, Andreas Matias Gloel, Monika Grabuschnigg, Karl Karner, Alex Müller, Aki Nagasaka, Allison Schulnik, Su-Ran Sichling. Curated by Julia Wirxel.








Carbon 12
Booth A19
21 - 24 September 2017

Bernhard Buhmann, André Butzer, Gil Heitor Cortesão, Monika Grabuschnigg, Philip Mueller, Anahita Razmi, Amba Sayal-Bennett




SoART 2017


artists in residence | Millstättersee Kärnten
September 2017
Austria



Carbon 12
Booth B1
15 - 18 March 2017
Amba Sayal-Bennett, Bernhard Buhmann, Gil Heitor Cortesão, Monika Grabuschnigg









Carbon 12
Booth 5.10
2 – 5 March 2017
Bernhard Buhmann, Philip Mueller, Monika Grabuschnigg