Carbon12, Dubai, UAE
12 May – 2 September, 2018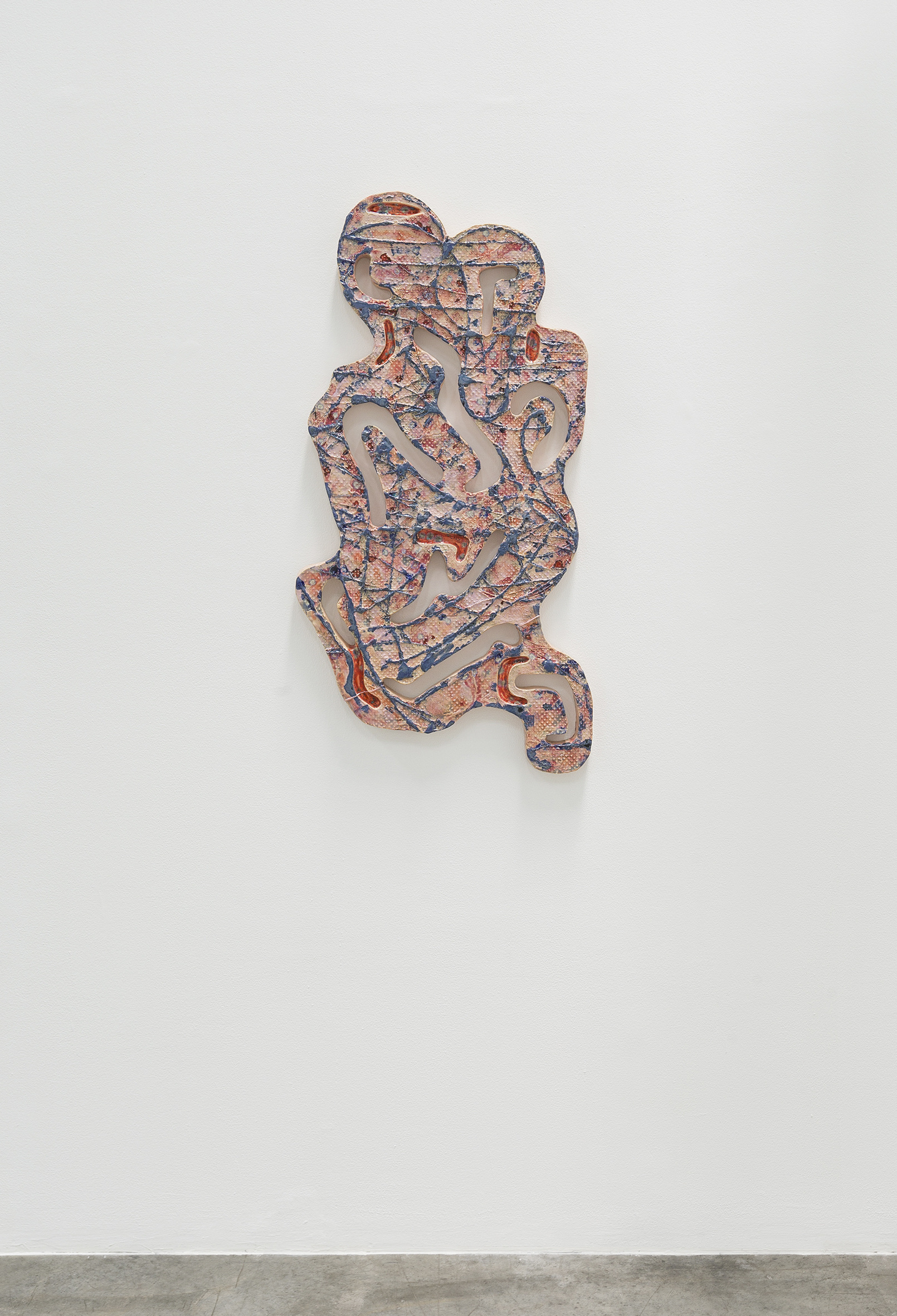 Watching the secretive whispers fade away, 2018
Glazed earthenware and resin, 107 x 56 x 4 cm






Opting out, 2018
Mixed media on paper, 50 x 65 cm


We drink the night with a thirst no lake big enough could ever quench, 2018
Glazed earthenware and resin, 110 x 78 x 4 cm







Left: Grape harvest with the vaulty heaven so high above our heads, 2018
Mixed media on paper, 30 x 42 cm
Right: Gathering in fool's paradise, 2018
Mixed media on paper, 30 x 42 cm







Study of an obsessive night, 2018
Mixed media on paper, 30 x 42 cm







All my body sees you in delay, 2018
Mixed media on paper, 30 x 42 cm




Combining large-scale clay reliefs and drawings, Monika Grabuschnigg's first solo exhibition, What satisfaction could you possibly have, explores the dislocated intimacies and disembodied desires of humans living in highly digitized societies.

How we search for and connect with others, how we long for, flirt and fantasize together is changing dramatically. The apps and websites we turn to seem to offer direct portals to other lives – immediate & intimate interactions that can lead to in-the-flesh satisfactions. But there is no unmediated exchange: we are subject to, and encouraged to enact, self-censorship, self-exploitation. Our loves and loneliness mined for profit. Each of us put to work as blister-thumbed miner.

Both the reliefs and drawings in the show reference the ever-present screens through which this happens. We see fractured and repaired bodies morphing into one another; cropped and cracked identities exaggerated and engorged by algorithmic bias; character-limited emotions congealing into searching limbs, messy embraces and visceral gazes.

Materially vulnerable, tonally fleshy, the inch-thick, flat-to-the-wall reliefs feel like substantial moments captured through a haze of distortion: the analog and digital worlds clashing head-on. The forms in the drawings are more of-this-worldly, but more deeply mired in dream-states. Created after (rather than as sketches for) the reliefs they feel like moments of surveillance: evidence gathered from tapping the data flows between the babbling ceramic.

The works are also intensely human – or human-ish. An ish that makes them all the more engaging. There is no easy, singular narrative on offer. Instead we are confronted with an insistent, information-rich polyphony: a polyamory of meaning. We see you, these works say, because you see us. We know you, because you know us. We surround you, because we are you.

Grabuschnigg describes her studio practice as a "near manic state, a kind of intense dancing in which I test & exploit my materials' limits, try to trick them into doing something new". Which is what we all can do with the tools and technologies that surround us, that know us, that are us. Recognize ourselves in them. Uncover the tricks we're subject to. Then trick back, just as hard. Harder.

-Martin Jackson
April, 2018







2018, Shakespeare, Shelley and Cyberspace - Alserkal Avanue review (online) &

PDF




Artwork images courtesy of the artist and Carbon 12
Horse and Pony Fine Arts Berlin
29 April - June 10, 2018
Exhibition view, Haptic House at Horse and Pony Fine Arts Berlin, 2018







So it is a lover who bubbles and who foams, 2017
Clay, acrylic paint, resin, metal and pump station, 150 x 90 x 90 cm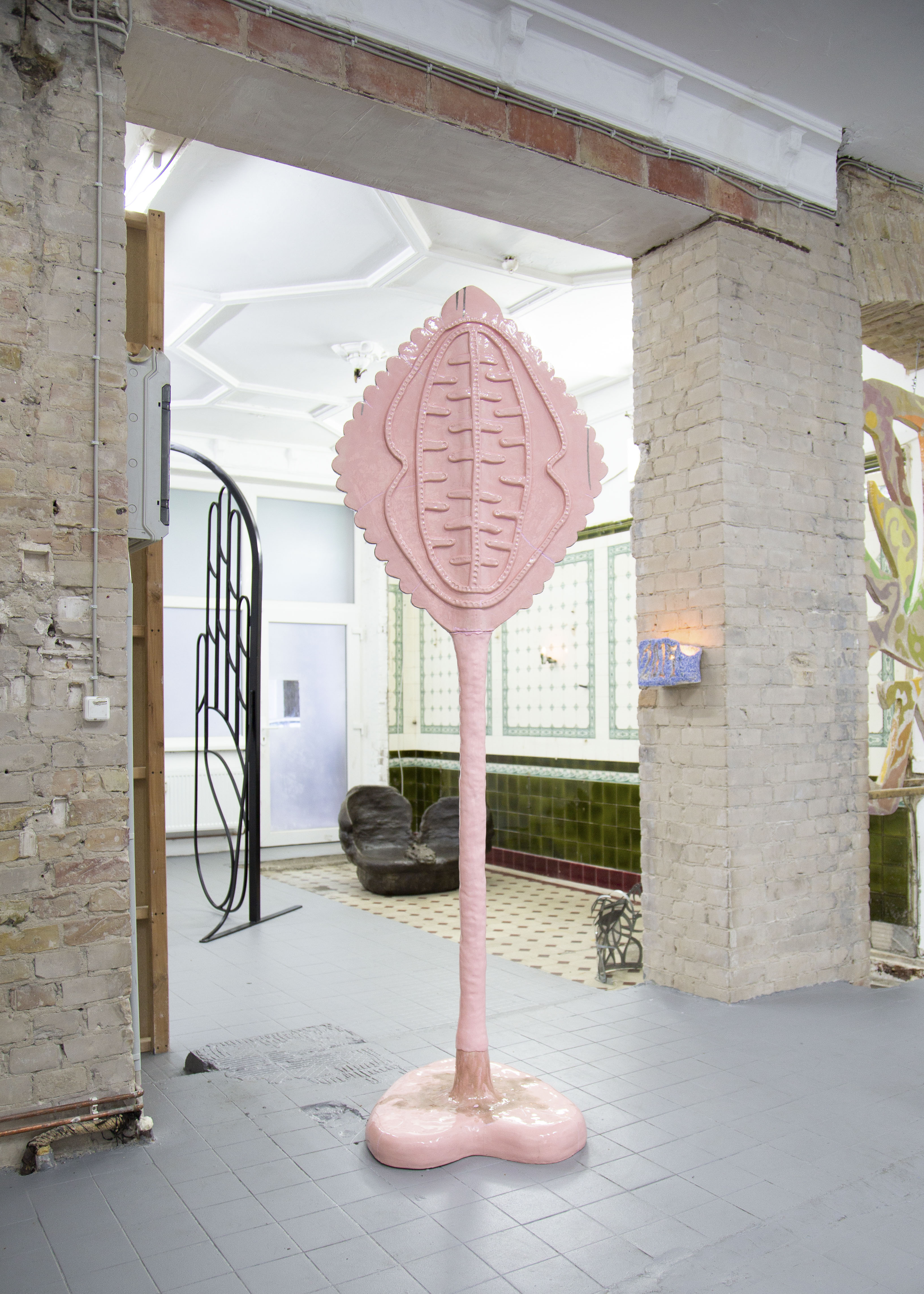 Left: Calling on the moon, 2017
Glazed earthenware, platinum luster, glass, acrylic, resin, epoxy putty, concrete and metal, 213 x 63 x 48 cm Right: You've been everywhere but here, 2017
Glazed earthenware, platinum luster, glass, acrylic, resin, epoxy putty, concrete and metal, 228 x 74 x 65 cm







GeoVanna Gonzalez, Keep down the blinds and fold
Site specific installation, mixed media with sound. 2018
(Featuring Monika Grabuschnigg, Holder 14, Glazed earthenware and resin).



Pictures by Michale Ruglio-Misurell
Florian Oellers capturing Haptic House with a 35mm camera:
So it is a lover who bubbles and who foams, 2017
Clay, acrylic paint, resin, metal and pump station, 150 x 90 x 90 cm


Left: You've been everywhere but here. Glazed earthenware, platinum luster, glass, acrylic, resin, epoxy putty, concrete and metal 2017
Right: So it is a lover who bubbles and who foams. Clay, acrylic paint, resin, metal and pump station 2017





KubaParis Review

Full Exhibition Documentation PDF




Duo show Monika Grabuschnigg & Christine Kettaneh
Carbon12, Dubai, UAE
September 18 – November 7, 2016


Camouflage#2, 2016, glazed earthenware and gold luster, 72 x 22 x 22 cm




Press Release

Imagine a mute language. Picture texts that cannot be read—sequences of word-like non-words that confound you in the reading, taunt you to decode them. Stride back from these bewildering scripts and your step encounters a carpet, yet another tangle of patterns and codes that has long been at the fulcrum of deciphering gazes. Sculptures spring from this woven geometry—shiny, multi-dimensional translations of the flattened shapes, pieced together by a peculiarly visceral grammar.

In Visceral Silence, two artists invest the Carbon 12 gallery space with their distinctly different practices yet raise common questions about language and composition. Beirut-based Lebanese artist Christine Kettaneh (b. 1982) presents a trio of works around keys, this symbol of ownership and possession, of exclusion and separation. Her Mute Melodies (2013) is a series of laser engravings on plywood, each tracing the contours of keys belonging to the artist's friends, outlining the pieces that go missing when the key is cut. Each shape echoes a unique melody we cannot hear—as the key fits into a lock, it is precisely this negative space that is activated in the key/lock embrace. Laid out across the plywood squares, the teeth contours constitute a language as mute as the melody of the key itself. Nearby, a shelf punctuated with bags of metal filings—collected from London key-cutters—is yet another materialization of the negative space of the key. In the book work Time Cutting Time (2013), a text written by the artist takes a key-like shape, engaging the viewer in the very act of cutting evoked across the three works.

Translation, quotation and the syntax of composition are at the heart of Berlin-based Austrian artist Monika Grabuschnigg's (b. 1987) Relics Collection. The sculptures riff off Afghan War Rugs—carpets into which were woven imagery of warfare, from grenades to rockets, during 1980s Soviet occupation of Afghanistan. A craft-based reflection of the reigning geopolitical turmoil, the rugs became valuable, hype-driven commodities, eventually landing in the art market 20 years later. The sculptures, far from a literal translation of the imagery in the rugs, are busy, opulent, almost saccharine in their colors, enticing the viewer into twirls of seduction and violence. Fleshy shapes, echoes of weaponry, pop cultural allusions and decorative motifs are pieced together following a particular grammar, forming fetish-worthy statues that gleam in sugary glazes of blue, pink and gold. Poised like a forest of stately Hapsburgian trophies, the works nonetheless pack an acid, critical sting, stabbing at our fetish-driven consumer society, cultural voyeurism and the link between artwork and consumer commodity.

Do the key teeth curves of Kettaneh's minimalist Mute Melodies dialogue with the fleshy contours of Grabuschnigg's Relics? Do the garrulous sculptures converse with the restraint of a line-up of filing-filled plastic bags? Perhaps. But both Kettaneh and Grabuschnigg's practices are marked by a deep concern for the language inherent in every artwork and make us conscious of the very act of reading art.

– Kevin Jones, July 2016





Artist in Residence Exhibition, 2016
8 April - 8 May 2016


Group exhibition with Stefan Alber, Ivette Mrova Zub, Vincent Grunwald, Monika Grabuschnigg, Zohar Gotesman and The Wa.

Link to Catalog






Works: 1, 2 image: Monika Grabuschnigg. 3, 5, 6 image: Zohar Gotesman


Structures are both the condition and limits for the possibility of practices. Every practice generates structures, which they render visible or influence in their stability. Understandings of structure depend on aspects of the visible in relation to form and function – creative and artistic approaches are capable of uncovering invisible paths and connections and revealing alternative spaces of action and movement.
In this year's exhibition we try to direct the eye towards things that like to keep in the background. Different processes of institutionalization, stabilizing social norms and cementing mechanisms of order and governance are examined. Architectural fossils crystalize as an important focal point – they are what testifies dominant powers and influences societies.
Accompanying our search for such traces of constitution are questions on the aesthetics of resistance. The participating artists investigate the ways in which systems of space and knowledge interlink and forms of representation are deployed. These strategies reveal that only by identifying existing patterns and cycles can different directions be pursued and new structural worlds be discovered.

EAU & GAZ
Lanserhaus / J.G.Plazer Street 22-24 / 39057 Eppan (Italy)

Alfred Gallery, Tel Aviv,

Flight Suit
May 14 - June 4, 2016


Participating artists:
Monika Grabuschnigg (AT), Gil Naamati (IL), Moran Sanderovich (IL), Avinoam Sternheim (IL)
Curated by Noa Elran (IL)


Alfred Gallery is pleased to announce the opening of the exhibition FLIGHT SUIT.
The show will feature the works of Monika Grabuschnigg (AT), Gil Naamati (IL), Moran Sanderovich (IL) and Avinoam Sternheim (IL). This exhibition is the fourth in the annual theme of 2016 – The Humane. The annual series will be divided into two sequences of exhibitions that attempt to examine the possible content of "the humane" as it is perceived today: 'the relations between the human and the divine' and 'the relations between the personal and the general'. Both sequences attempt to stress the concept of The Humane. All of the exhibitions stand alone, artistic and curatorial, but share a common concept.





Exhibition view, Alfred Gallery, 2016






Untitled (Rumi lighting fire), Drapery, 2016, Louis and the lion, 2016
Drawing on paper, 29,7 x 42 cm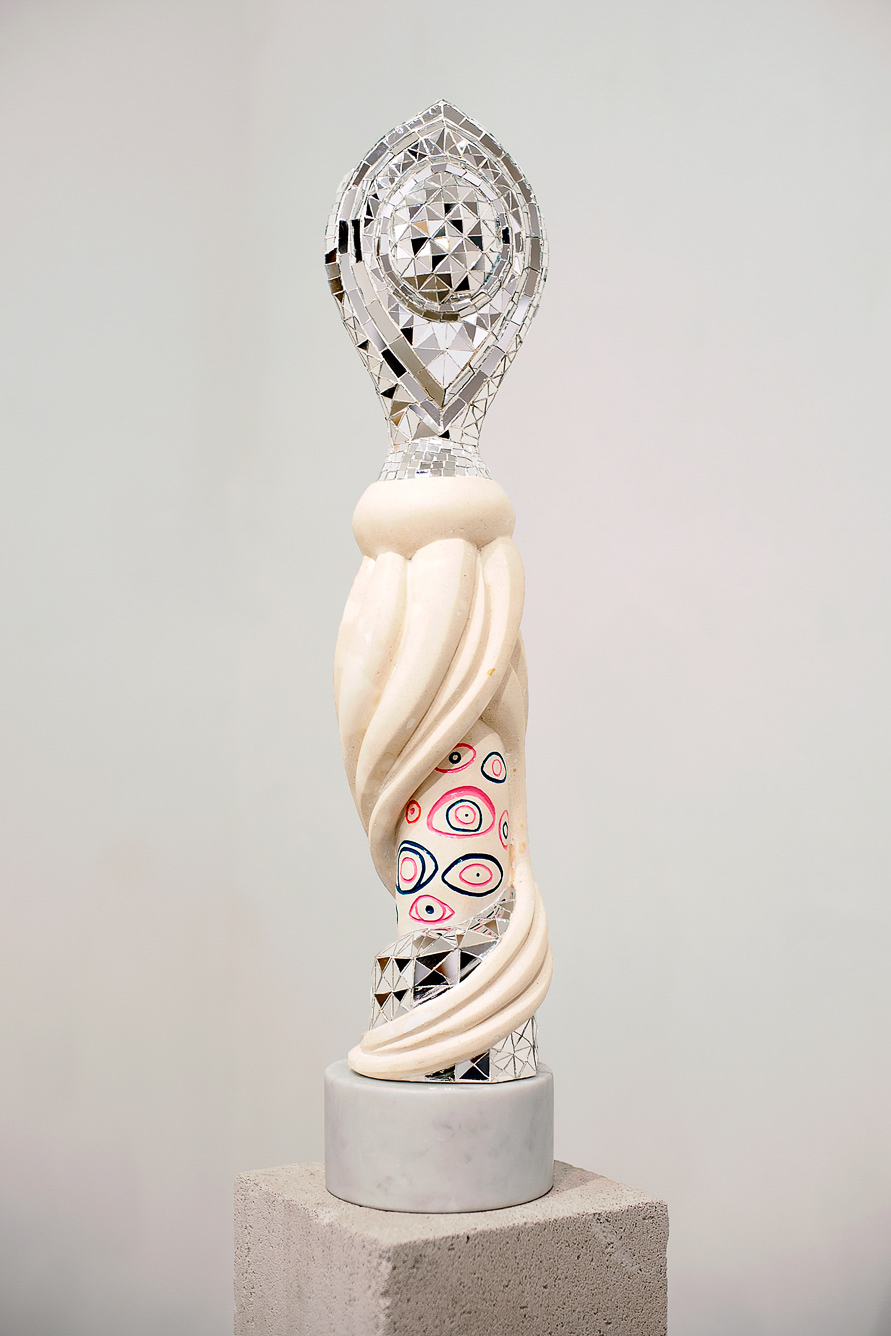 Sufi, Sofit, Suffit (endless, end, enough - light up the fire), 2016
Acrylic resin, polyurethane, epoxy, mirror and marble

Mirror, mirror ball, 2016
Acrylic resin, polyurethane, mirror, glass, marble







Exhibition was kindly funded by the Astrian Cultural Forum Tel Aviv, Israel and the Federal State Government of Vorarlberg, Austria.

Flyer Image by Moran Sanderovich.
© Monika Grabuschnigg, All Rights Reserved.