Berlin Art Prize 2018

Installation: What shall I swear by, 2017
The shelf, Berlin
Image credit Anastasia Muna
Opening night
Image credit Mathias Voelzke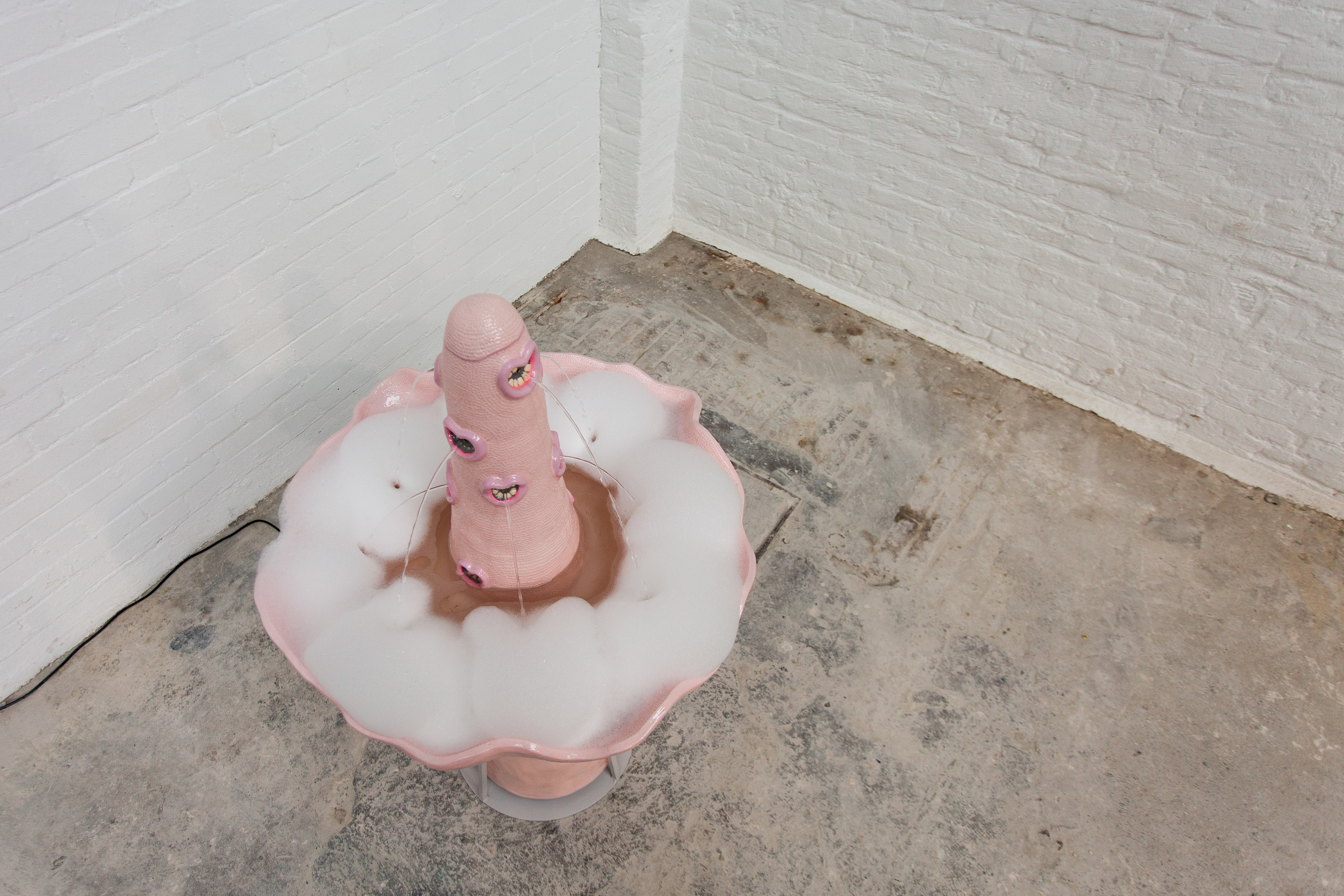 So it is a lover who bubbles and who foams, 2017
Clay, acrylic paint, resin, metal and pump station, 150 x 90 x 90 cm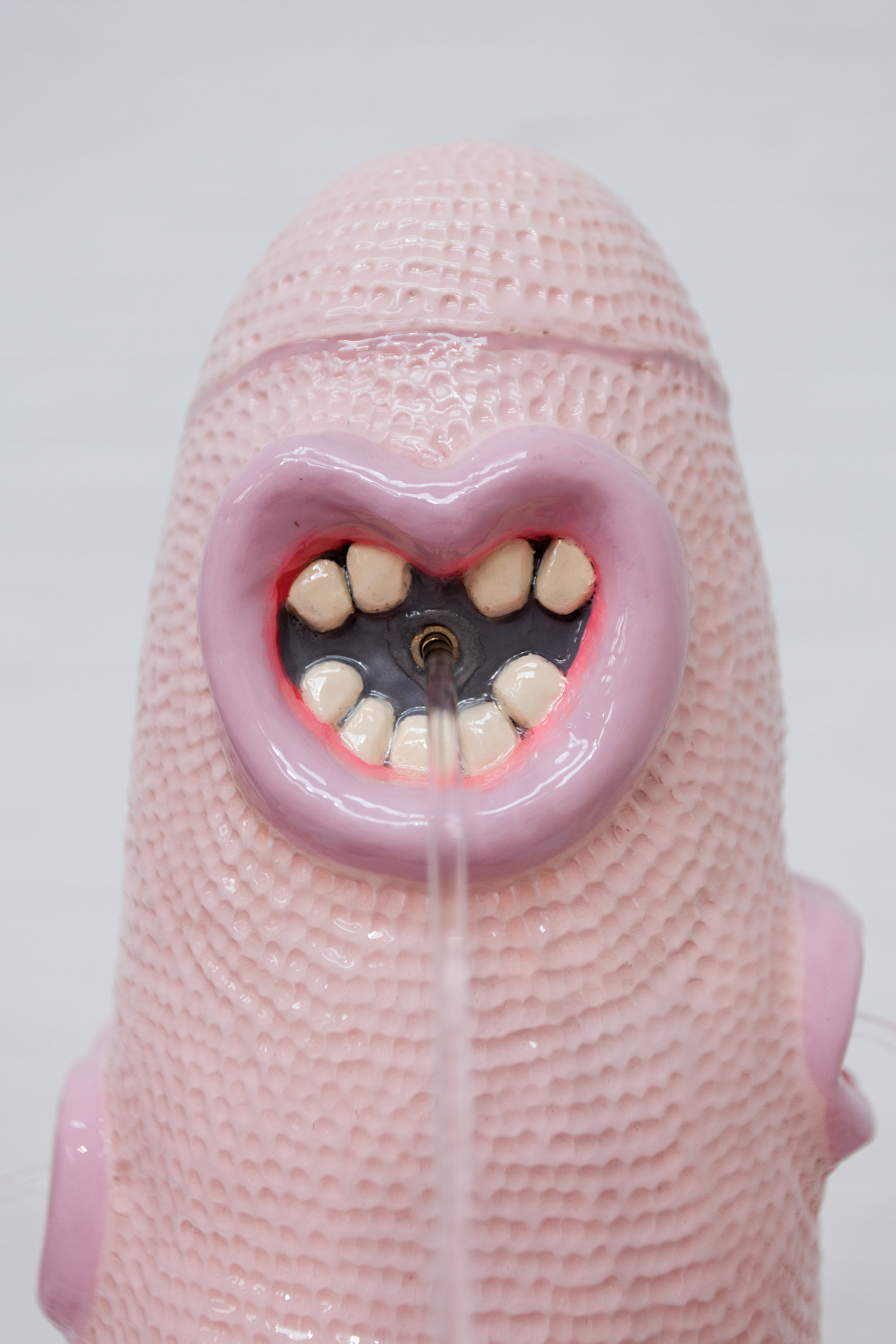 Calling on the moon, 2017
Glazed earthenware, platinum luster, glass, acrylic, resin, epoxy putty, concrete and metal, 213 x 63 x 48 cm
You've been everywhere but here, 2017
Glazed earthenware, platinum luster, glass, acrylic, resin, epoxy putty, concrete and metal, 228 x 74 x 65 cm


The series What shall I swear by (2017) probes the remains and new gestations of love and intimacy in our emotionally precarious culture, where narcissism and self-optimization, gamophobia and Xanax comprise the toolbox for encountering others. Imposing, naked, fleshy and vulnerable, the family – or threesome – of sculptures gesticulate, flirt and gurgle with desire incarnated.

Titled by a line lifted from the balcony scene of Shakespeare's Romeo & Juliet, the intensely physical installation is arranged as a kind of modern day Globe. Swiped onto stage, viewers are invited to entangle themselves in the lines of desire crackling between the players. Once implicated, we tune in to the script that reveals capitalism as encouraging disengagement, rewarding lives lived through fantasy instead of reality (Laurie Essig); as valorizing decisions made through cold, cynical calculation instead of gut-deep impulse or emotio-rational risk-taking (Eva Illouz).



Drawing as much on pop culture as philosophy, the series is concerned with how Hollywood, Netflix and the music industry are the new arbiters of intimate thought, the new dictators of decision-making. Where previously family, religion and educational institutions delineated and (mis-)guided us through the realms of intimacy, now it is the superstructures of high-capital directing the flavors and depths of our joy and shame, our guilt and ecstasy. Sex has always sold – now so do our crushes and heartbreaks, fetishes and longings and every slippery nuance of how we attempt to live amongst and intertwine with each other.

Paraphrasing its title from a line from Barthes' A Lover's Discourse, Fragments, the fountain work in the series – "So it is a lover who bubbles and who foams" – was created in response to the pop song Soap by Melanie Martinez. The song's narrator admonishes herself for spilling that dirty word love, and reveals the impulse to self-punish: "I feel it coming out my throat / Guess I better wash my mouth out with soap / God, I wish I never spoke…" The video has been watched 30 million times on YouTube, with nearly 100 million plays on Spotify.

The two sculptures "Calling on the Moon" and "You've been everywhere but here" embody two opposing yet interdependent characters. Manifestations of "I-need" and "I-take", they can be seen as incarnations of one being, one mind. Or, as attracted opposites, they function as a reminder of the potential beauty in messy chemistry, that ability of desire to creep unexpectedly into the otherwise overly-ordered fabric of our lives.

Overall, this corpulent triptych offers as much hope as it does critique. Our appetites and inclinations are being reduced to minable data-currency, and the courage we need to let ourselves fall is being soldered, siliconized, but in new forms and guises love as "an individual experience of potential universality" (Badiou) will always rise, always erupt, always resist. All we need are new scripts to enact. New stages to invade. New love to foam and gurgle out from the very core of us.






Image credits if not mentioned differently by Asaf Oren.